Yesterday's match was a goodbye to more than just this season.
...Lyngby
Our opponent will play next season in the 2nd best division. Their last game was pretty much like the rest of their season: attacking but losing. Two goals by Atiba Hutchinson who did an inspired effort on the left wing finished them off.
...Marcus Allbäck
Scored his 45th goal on a competent header at Oscar Wendt's sugar sweet cross in his 120th and last game with us. Will be sorely missed! Good luck with
Sweden in Austria/Switzerland
.
...Michael Silberbauer
Played his 196th an last game - so far. Good luck in Utrecht (
the rumor
was fact). Hope to see you again some time.
...fan unity
After the game the players
didn't
go to the "Sektion 12" at the "B" stand to celebrate. But everywhere else. A very strong message that they really didn't appreciate
last week's flame throwing
. Urban Crew
et al
are crying their hearts out. According to
this fan's comment
club director Jørgen Glistrup has said the idea was the player's own entirely, not the club management's.
The official fan club made a similar statement by this banner: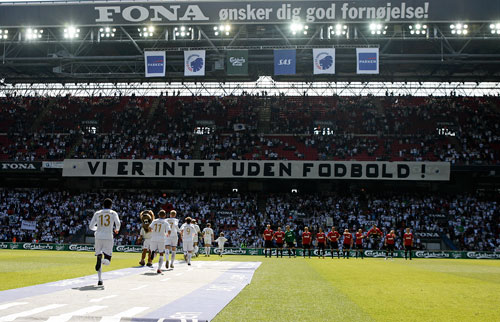 Reads "We are nothing without football". Copyright FCK and Carl Redhead.
Not as bleeding heart fanatical as it may seem the banner is a direct comment to the "Sektion 12" banner we have been embarrassed with for some time now that reads "Football is nothing without us". A welcome humble message to counter the horribly misplaced arrogance of "Sektion 12". The difference between old time fans at "Nedre C" and the new ultra boys at "Sektion 12" is growing.
...2007/08 season
FC København Fan Club members has voted (I forgot) for the player of the year title and chosen Czech Libor Sionko. Well deserved for his hard work up and down the muddy Danish sidelines. Good luck with
the Czech Republic in Austria/Switzerland
to you and Zdenek Pospech too.
This post was greatly inspired by
Politiken's match review
. But obviously much better and more insightful ;-)